First published by Citywire Amplify here. Written by Fenella Rhodes, Citywire Amplify.
Andrew Wilde, Global Head of Financial Services and UK Managing Director at Edelman Smithfield, spoke with Fenella Rhodes, a journalist at Citywire Amplify, about how and why asset management firms use external communications consultants.
 
With evidence that the public trusts business more than it trusts governments, PR professionals are calling on asset management to be more outspoken on issues such as AI, reskilling and the cost of living.
 
External PR agencies working for fund groups are struggling to persuade their clients to take part in national conversations about the cost of living, workforce reskilling other social issues.
The reluctant firms are missing out on huge opportunities to build their brand image, publicise their products and services and deepen their connection with their current clients, say PR account managers.
Citywire Amplify spoke to multiple external PR agencies, who said their clients are wary of discussing evolving social issues, such as the impact of inflation on people's lives or readying the workforce for the upheaval due from artificial intelligence.
Andrew Wilde of financial communications firm Edelman Smithfield said that too often a fund group's view is that 'the safest thing is to say nothing'.
The reason for caution, Amplify was told by multiple long-serving PR professionals, is the 2008 global financial crisis, which saw widespread public criticism of financial services.

However, 15 years on, there is evidence that asset managers have misread the public mood.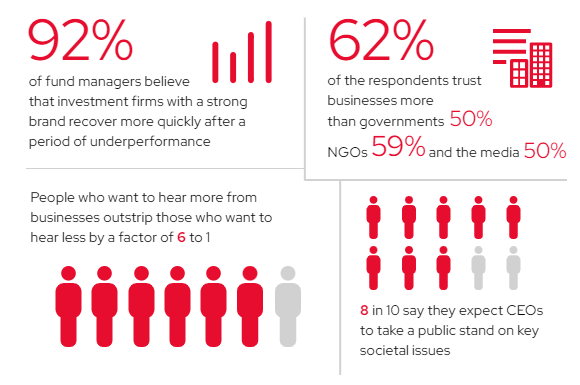 Edelman Smithfield produces annual data on how much the public trusts different industries. Its 'trust barometer', which annually polls 33,000 people across 28 countries found businesses (trusted by 62% of respondents) are more trusted than the government (50%), NGOs (59%) and the media (50%). Business is viewed as a credible and important source of information and expectations on businesses to lead on social issues are growing.
The number of respondents who said they want to hear more from businesses on issues such as climate change, economic inequality, and workforce reskilling – where investment firms could have a strong voice – outstrips those who wanted to hear less by a factor of six to one.
About 80% said they expected CEOs of companies to take a public stand on key societal issues. For example, 82% expect CEOs to take a public stand on climate change, 77% on the wealth gap and 89% on the treatment of employees in the workplace.
Wilde said PRs had a 'frustration around asset management firms' hangover from the 2008 financial crisis' in terms of their willingness to engage publicly with societal issues, despite the good work he says they are doing in private in many areas.
Before 2008, he said, many firms spoke out on a larger range of topics but have since lost confidence that they have the 'permission' to take a lead.
 
'Moment of truth'
Asset managers are not wrong to take care when it comes to communications. The external PR firms offering their services would be the first to emphasise the importance of getting the right message out in the right way.
'Communications can define the reputation and the future success of a company. The golden thread that ties something together, or the slip of a tongue, can often be a company's "moment of truth",' said Daisy Hall, a senior managing director at FTI Consulting. 'It's why we all spend so much time in helping a company to prepare for all manner of communications to internal and external stakeholders.'
So, firms are aware of the importance of the topics but still cling to the safety blanket of external PR agents.
Stephen Sobey has seen fund comms from both sides. The former internal head of corporate communications at multiple asset managers, and head of media relations and corporate affairs at Janus Henderson until February, Sobey now works for PR agency Citigate Dewe Rogerson as a senior director.
'Having worked as both in-house comms and now in an agency, it's clear that the best work is produced when the client and their agency partner are completely aligned on the business strategy of the company and how that relates to the PR strategy,' he said. 'I have worked with a large network of agencies over the last decade, and I have been sadly amazed by the number of agencies who offer generic solutions that could apply to any company and do not relate to the client's offering, their market position or their goals.'
In terms of the public mood, it can be hard to find an area where there isn't some kind of division. ESG may be de rigueur in Europe, but it has been polarising in parts of the US, with both pro- and anti-ESG lobbies threatening boycotts.

'In recent years, many clients have been looking for guidance on how best to communicate their record and aspirations on sustainability issues,' said Sobey. 'Global clients in particular are mindful of the differing attitudes toward ESG and how best to shape their communications in line with individual market sensitivities.'
 
Amplify view
The world has changed since 2008. Much as it may surprise veterans of the financial crisis, financial services are not the devil – there are plenty competing for that mantle. Asset managers are on the front line of investing and so have substantial amount of data and institutional memory, both of which could usefully add to the national debate.
Given there is evidence that people are looking towards business and finance for guidance – and if anything the world is more complicated and confusing than it was 15 years ago – it is time to take a leap back into the swimming pool of public debate.